The Woonsocket Industrial Complex is located in Woonsocket, Rhode Island, 20 minutes north of Providence, Rhode Island, 35 minutes south of Worcester, Massachusetts and within one hour driving time from Boston.
Transportation is easily accessible to interstates 495, 295, 195 and 95. State highway routes 146A, 126, 122 and 114 transverse different sections of the City of Woonsocket, and access to the Woonsocket Industrial Highway, Route 146 and Route 99 are
convenient.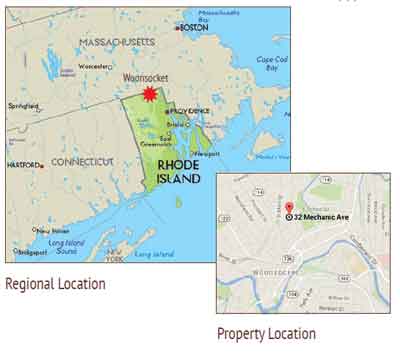 The Woonsocket Industrial Complex occupies several acres and provides approximately 200,000 square feet of working floor space.
The buildings are of standard mill construction. They consist of post and beam framing with a brick concrete shell. They are arranged to provide abundant light and excellent ventilation. The interiors are brightly painted and detailed.
There are two separate common indoor loading dock facilities and many areas that are available for van and small truck deliveries.
Freight elevators are strategically placed throughout the complex to service the occupants of the third and fourth floors.
Ample vehicle parking is available on the complex property with additional parking available at a nearby lot if necessary.
Woonsocket Industrial Complex will subdivide or build to suit the specific needs of your business.
Please feel free to contact us for questions or additional information at
401-766-6565 or toll-free at 1-800-528-4981.